Process Expo 2023 is just around the corner, and we couldn't be more excited to showcase our Bucket Elevator!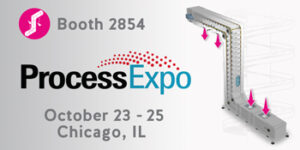 Make sure to visit us in Booth 2854 at Process Expo 2023, where you can see the Ryson Bucket Elevator in action. Our experts will also be on hand to answer your questions and demonstrate our capabilities. Let us show you how we can elevate your material handling processes.
Ryson is thrilled to invite you to join us at Booth 2854! We are also happy to offer FREE registration to the show.
Why the Bucket Elevator Matters
Our Bucket Elevator is a game-changer in bulk material handling and vertical conveying. Whether you're in the food processing, agricultural, pharmaceutical industry or any other sector requiring reliable product transportation… They offer flexible and reliable vertical transportation of product and can help streamline your production line. Additionally, they require minimal maintenance and can be custom configured to your conveying needs.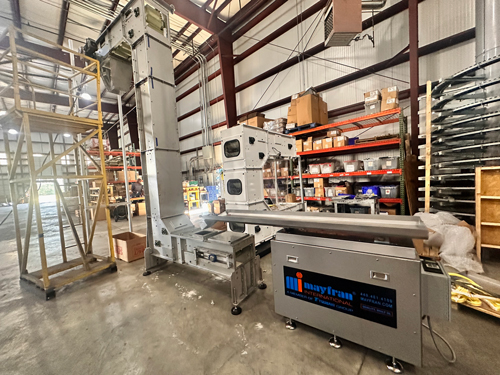 Pet Treat Live Production Line Demo
At this year's Process Expo, one of our Bucket Elevators will also be featured in the live pet treat production demo line. Witness firsthand how our innovative solution seamlessly integrates into the production process, ensuring the highest standards of quality and reliability.
Final adjustments are currently being made at our manufacturing facility to ensure the Bucket Elevator fits perfectly into the production line. A Mayfran Shuffle Conveyor will feel metered product to our Bucket Elevator. Additionally you can read the full details about the production line here. The demos will run at 12, 2, and 4pm every day of the show.
Why Choose Ryson International?
Ryson International is a recognized leader in the field of vertical conveying solutions – known for our innovative spiral conveyors and material handling expertise. With a commitment to quality, efficiency, and customer satisfaction, we have become the go-to choice for businesses looking to optimize their conveying processes. Our solutions stand out because of their modularity and robustness. Finally, you can find out more about our brand here.
Hope to see you at Process Expo! We're excited to connect with you.