Ryson offers many prewiring options that can save time during installation. This is particularly valuable if trying to minimize production down time for the installation. It can also be a benefit if adding a spiral to an existing line.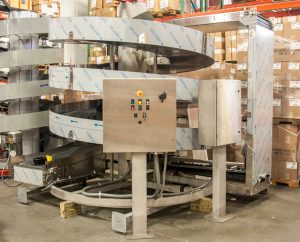 Next week we'll be shipping this Model 1700-600 all stainless steel spiral to a food manufacturer who will use it to bring products from a freezer down to the carton packing line. The products, ranging from overwrapped plastic containers to aluminum sheet pans, replaces a belt curve decline that is no longer effective in handling the range of products now being packaged.
The spiral was built in our stainless washdown option because it will be sanitized every night with harsh detergents. Our customer has designed the system and the project to be a weekend "plug-n-play" that includes our self-contained NEMA 4X controls and a remote E-stop.
The spiral will be accompanied to site by two of our Technicians that will oversee the rigging of the machine into cramped quarters, re-assembly and start-up over a three day period. They will also take the opportunity to train the maintenance staff on proper maintenance procedures.
 Our ability to offer prewiring options for a spiral to allow for a "fast-track implementation" is part of our efforts to make customer service a top priority. For more information, you can download the stainless steel options, prewiring options, or read more application stories on our weekly news-blog.