Ryson offers optional pre-wiring & controls options for spirals.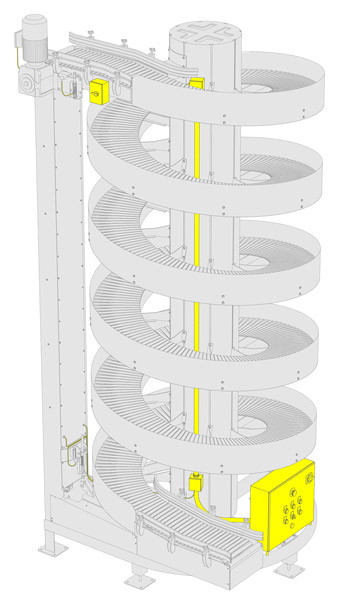 The pre-wiring options can greatly reduce the time and cost of installation for our Spiral Conveyors. The most common option is to add and pre-wire the motor disconnect switch. Other popular options include prewiring of the chain tensioner and motor over torque sensors to a common terminal enclosure.
The stand alone control option is an especially attractive option if a spiral is replacing existing equipment or if an additional line is being installed. It can drastically reduce implementation time.
Ryson spirals do not come standard with pre-wiring & controls. This is primarily because most spirals are integrated with an overall control system provided by the systems integrator.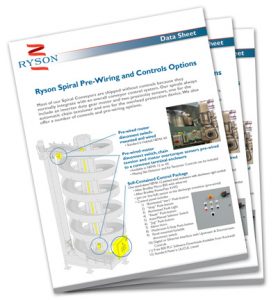 We recently updated our Pre-Wiring information sheet and it is available to download. There are many common options listed. We are also willing to customize options to your specifications.
All Ryson Spirals require a variable frequency drive to operate properly. This is because the  drive system needs to ramp acceleration and deceleration to assure smooth operation and product stability. For additional details about our pre-wiring options, download the Ryson Wiring Options information sheet here. You can also read some application stories about pre-wiring in our weekly news blog.