Ryson spirals are designed to vertically transport materials with a small footprint. It is the attention to detail that has put Ryson at the top of the market. One example of this is the attention to the safety design built into the spiral. Safety considerations are incorporated to help protect the products being conveyed, the employees working near the spiral and the longevity of the spiral itself.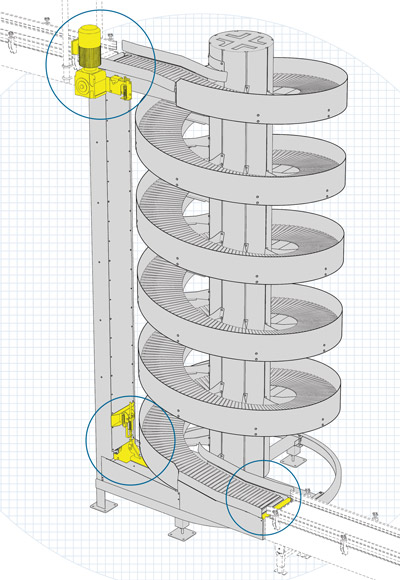 One of the the most important safety design is the motor over torque assembly, which will stop the spiral in the event there is a jam, protecting the product and the spiral itself. There is also a chain tensioning device that enables the spiral to keep a tight chain as it stretches over time. This helps reduce wear of the chain and sprockets.
At the infeed and discharge of the spiral, special considerations have been made to reduce the pinch-point areas and to make the transition as smooth as possible, minimizing wear to the materials being conveyed and for the safety of the operators.
Undercover plates and side guards are standard, shielding operators from moving parts such as chain and pinch points. Depending on the model, slats are designed to be either nesting or overlapping, reducing the possibility of things getting caught on the conveying surface.
Optional features include missing slat detectors and inside guide rails.
The safety design of our Spiral Conveyors is part of our commitment to quality and customer service. If you would like more information on the Safety and Maintenance of our spirals, please visit www.ryson.com or download our maintenance guide.