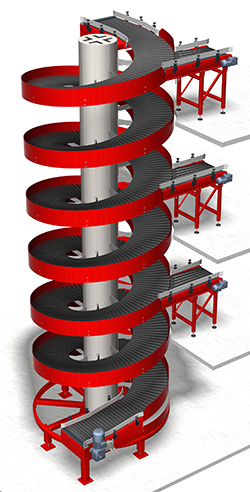 The new Ryson High Capacity Spiral Conveyor design is getting many of our integrators excited. Especially when they learn it can come with multi-level in-feed options. We are showing off it's capabilities this week at Pack Expo in Chicago.
The new Ryson High Capacity Spirals are in response to our customers need to go higher and handle more weight.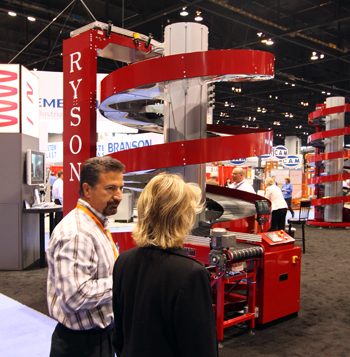 The load capacity of the vertical spiral conveyor is 75 lbs. per linear foot of conveyor with speeds up to 200 FPM. The total weight capacity in the incline spiral at any one time is 3600 lbs.
The Multiple Entry option allow loads to enter the spirals from several different elevations. A new high speed induction conveyor provides controlled spiral entry. The conveyor belts are individually adjustable to match the spiral pitch. Traffic controls are required to prevent loads entering from different levels colliding in the spiral.
Visit the www.ryson.com for more information on the High Capacity Spiral Conveyor and how it can be used in a multi tiered system. You can also see some footage on Ryson's YouTube Channel.