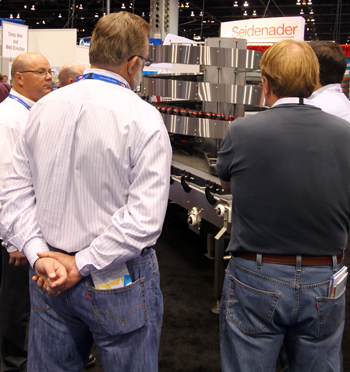 Generally speaking, the first day of a trade show is the slowest. Well, we couln't tell. The traffic our booth generated was a great rush and there was much interest in the high capacity mass flow spiral conveyor Ryson is exhibiting at the show.
The Ryson Mass Flow Spirals are designed to handle full and empty bottles, cans, jars and similar containers. Products are conveyed up or down in a continuous mass flow.
The Ryson Mass Flow Spiral Conveyors are based on the already proven and reliable Ryson Vertical Spiral technology. Only one drive motor is needed, equating to substantial savings in controls and systems integration. All Ryson Spirals are designed for low maintenance and long life. Many spirals operate 24 hours a day, 7 days a week. Ryson Spirals have a small footprint and provide considerable space savings compared to conventional methods.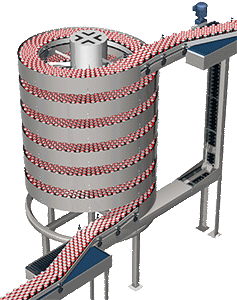 Read more about the Mass Flow Spiral Conveyors at www.ryson.com, download the brochure,  and check out footage of the mass flow spiral conveyor on Ryson's own YouTube Channel.
We welcome you to stop by booth 4634 for a personal demonstration.