New Videos Display Ryson Spirals in the Field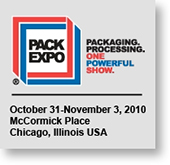 Videos Display Ryson Spiral Conveyors in the Field: In preparation for Pack Expo 2010 in Chicago, Ryson has assembled some in-the-field footage of their Mass Flow Spiral Conveyor, High Capacity Spiral Conveyor with Multiple Infeed, and Unit Load Spiral Conveyor to display at the show. If you are interested in a sneak peek, check out Ryson's YouTube Channel, or view them below.
If you are planning to attend the show, please stop by our Booth N-4634. This is one of Ryson's largest shows and we've got some impressive spiral conveyors running in our booth.