Ryson played a key role at American Eagle Outfitter's new distribution center in Hazelton, PA.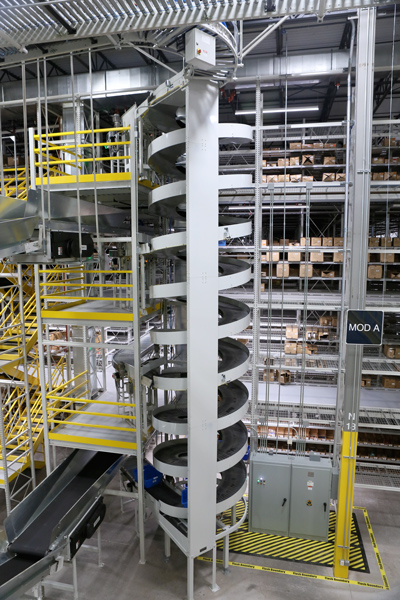 Our integrator partner, Vargo Material Handling Solutions, designed our spiral conveyors into their Direct-to-Consumer picking system, where operators pick into totes from one of four levels of the pick modules.  Totes are then transported to our multi-infeed spiral conveyors where they are inducted into the spiral and out to the sorter. Vargo's traffic control system monitors the locations of the totes inside the spiral to allow metering of the totes coming from different levels.
On the other end of the pick modules, empty totes are fed to each pick level via our new divert-out conveyors. These are down spirals with swing arm diverts at each level, which, along with our powered  discharge spurs, divert the totes out of the spiral to feed each level, on-demand.
The high capacity spirals shipped pre-assembled and pre-tested, saving on installation time.
Our High Capacity Spiral Conveyors with multi-level induction and divert out capabilities allow our integrators to provide innovative and reliable space-saving solutions to their customers.
For more information on Ryson's High Capacity Spiral Conveyors, visit www.ryson.com, or download the product specification sheet.