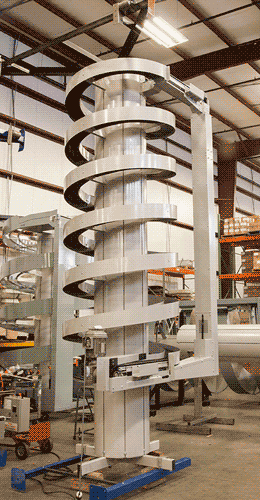 The modular design of the new NT model allows for end transfer or side transfer of products like bottles, cans, jars, pouches and cartons in single file or mass flow (for round products).
This week we shipped one of our new model 1100-150 Narrow Trak Spirals. This slim spiral with a 6" wide slat surface was a perfect fit for Innovative Conveyor Systems, our integrator partner. They are using this down spiral to handle cartons of herbal teas for their client, a nutraceutical manufacturer.
The Narrow Trak spiral is perfect for applications where side gripper elevators have been commonly used. The NT 1100-150 is designed to reliably operate at speeds in excess of 200 FPM, which will allow this spiral to be used in high speed lines. The spiral can also be reversible and is available in a hybrid stainless steel version for use in wet environments. Our design is modular like our other models, allowing this spiral to be reconfigured in the field when repurposing is required.
Some of the improvements to this model include a more versatile slat width, enhanced nesting slat design to ensure smooth transfer with no pinch points or gaps. This design also completely utilizes the Ryson rolling low friction chain arrangement, which allows it to handle a larger elevation change, or more turns to lower the pitch for less stable products.
For more information on the Ryson Narrow Trak Spiral, please visit www.ryson.com.