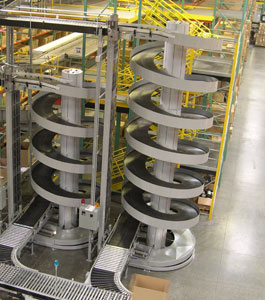 Ryson Multiple Entry High Capacity Spiral is a part of the expansion of Decker's Distribution warehouse in Camarillo, California is now in full operation.
The Expansion includes four Ryson High Capacity Spiral Conveyors, one of which is equipped with the new Ryson Multiple Infeed feature.
The Multiple Entry Spirals allow loads to enter the spirals from several different elevations. A new high speed induction conveyor provides controlled spiral entry. The conveyor belts are individually adjustable to match the spiral pitch. The System was integrated by Wynright Interlogistics of Elk Grove, Illinois.
Click on Multple Entry Spirals to see video and download product spotlight PDF. You can also view application stories on the Multiple Entry/Exit Spirals on our blog.