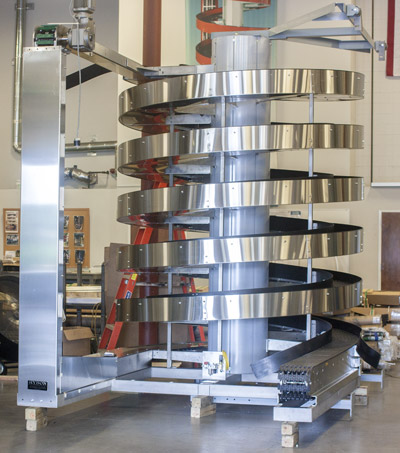 This week Ryson is shipping two  High Capacity Spirals that are a New Mass Flow Model. A food manufacturer needed the ability to mass flow and single file multiple sizes of non-round PET containers of liquids, up, across the room and back down to the labelers. Due to the height of an F-style gallon container, we modified our existing 1900-260 and 1900-400's to a wider diameter, allowing the interior height clearance for that jug to pass through the machines.
Our integrator partner, GC Evans, also chose the downstream spiral (2100-400) with the wider 16" slat to create additional buffer space to allow for downstream labeler change-over time. The upstream 2100-260 was also built in our Hybrid washdown construction, as it will be installed in a wet area.
These new larger-diameter spirals will allow us to handle taller glass wine bottles as well. For more information on The Ryson Mass Flow Spiral Conveyor, visit www.ryson.com, download our Mass Flow Spiral brochure, or read past installation stories.