Narrow Trak Spiral Conveyors used for Curing Time: This week we finished a pair of Narrow Trak Spirals that will be used for a not-so-common application.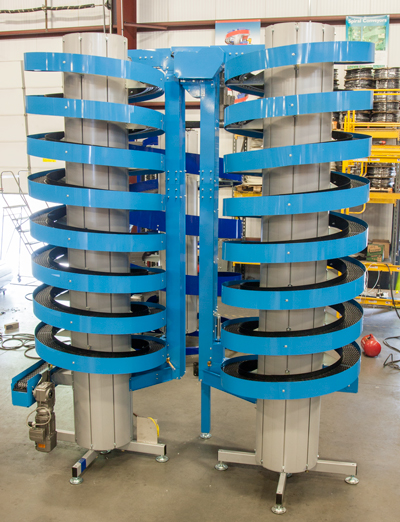 The products being handled need curing time to solidify in their containers.  This is done in a temperature controlled, chill room.
By using two 1100-150 Narrow Trak Spirals this was accomplished in a very small footprint.
Each spiral has 8 turns, providing extra travel distance and keeping the incline angle low, which is important while waiting for the product to solidify. Depending on the products being handled, they may spend up to 4 minutes traveling through the spirals before exiting the room.
The two spirals are joined together at the top by our new micro-pitch conveyor.  This special conveyor is attached to, and mechanically driven by one of the spirals facilitating the smooth transfer of smaller products.
The design of the narrow trak slats allow the spirals to handle a variety of products without requiring any changes between products. The integrator on this project is Pendergraph Machines.
The Ryson Narrow Trak Spirals are great space savers with high throughput that can run at speeds in excess of 200 fpm.  These spiral conveyors are equipped with our 6" or 9" wide nesting slats which provide an efficient flat conveying surface without gaps.
For more information on the Ryson Narrow Trak Spiral conveyors, visit www.ryson.com, download product information, or read more application stores on our weekly blog.