A Ryson Spiral's conveying surface is stable and good at maintaining product orientation. That makes our spirals ideal when a single spiral handles multiple product patterns.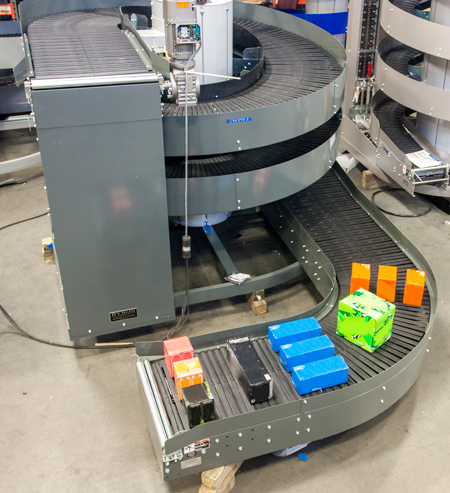 We recently shipped two spirals to a beverage company for our Integrator Partner BW Integrated Systems. One of the spirals, pictured here, was specified to handle some overwrapped 4- packs, 6-packs, 12-packs and 24 packs. The project called for some of the packs running 2 or 3-abreast and some wide-side-leading, so product orientation was critical.
A special friction pattern was used so that the correct number of friction inserts were making contact with the bottoms of the cartons, ensuring correct positioning of the packs while on the spiral. To achieve the filling and packaging rates, the spiral will be running at 100 FPM.
The Model 1700-600 (24" wide slat) has an elevation change of 4.5 feet and has extended height legs for a 5' infeed elevation. The spiral has an extended infeed curve with a close-couple transition to minimize the unpowered zone between the spiral and the adjoining conveyor.
For more information on the Ryson Case Spiral, Visit ryson.com, download the spiral spec sheet, or read more application stories on our weekly news blog.