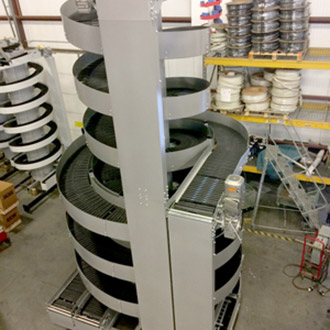 This Multi-Level Dual Track Spiral Conveyor is the ultimate space-saver. This model 1300-400/2300-400 utilizes two separately-driven lanes to elevate empty trays from the infeeds to one of two discharge elevations.
The system concept was designed for a major brewery for sorting empty corrugate trays. Trays that will be re-used for packing, get diverted onto the inside lane and go to an elevation of 17'. Those that won't be re-used are diverted to the outside lane that peels off at 10.5' and takes the trays to a recycle bin.
The dual track allowed the customer to save space. The spiral lanes run at 150 FPM to keep up with the production rate. The integrator on this project is Conveyor System Design, Inc.
Most Ryson Spirals Ship in one piece. This is not possible with the largest of our models, because they have do be partially dismantled to fit on a truck. But still care is taken to minimize reassembly when it arrives at the customer's loading docks.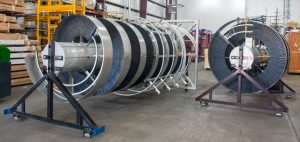 This photo shows the dual track spiral ready to be loaded on a truck. As you can see the outer spiral has been dismantled, but the inner track is still intact. But the top of the spiral (on the right) has been separated because it will need to be installed through a small opening in the production facility.
A Ryson service technician will be waiting at the customers receiving dock when the spiral is delivered to spearhead the reassembly the day the spiral arrives.
For more information on Ryson Dual Track Spirals, visit www.ryson.com, or you can read more installation stories on our weekly blog.