The Ryson Dual Track Spirals are the ultimate in space savings for multi level conveying when 2 lines are involved and can also be configured for dual level entry.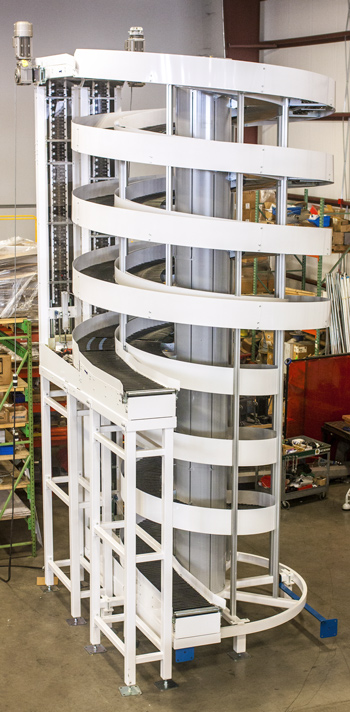 Independent elevations of the inside and outside lanes of these dual tracks have solved many layout challenges. They can also convey  up and/or down because they are independently driven.  In this application, the inside lane enters at the floor level and discharges at the third level of the adjoining mezzanine. The outside lane takes cartons from the second level to that third level of the mezzanine, where they feed downstream palletizers.
In this application, the Dual Track Spiral feeds cases of beer from two different levels of an automated picking system.
In addition to multi level conveying, the benefit of this spiral model in the integrators layout is it's compact footprint, compared to two separate spirals.
The Ryson Dual track spirals are available in 12, 16 or 20" widths. The slats are made of a fiberglass reinforced nylon composite and can also be furnished with friction inserts when additional grip is required.
For more information on the Ryson Dual Track Spiral Conveyor, visit www.ryson.com, read more stories about the Ryson Dual Spiral on our news blog, or download the brochure.