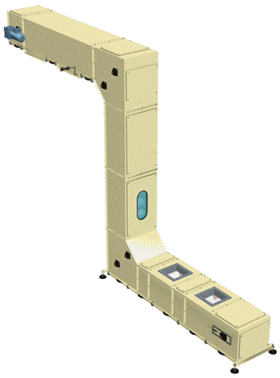 In addition to Vertical Spiral Conveyors, Ryson International, Inc. Manufactures a modular Bucket Elevator and Bucket Conveyors.
Bucket Elevators handle bulk materials in an enclosed  bucket-chain conveyor system. The Bucket elevator efficiently combines vertical and horizontal transportation and can have multiple inlets and outlets. They are designed for gentle handling and quiet operation to facilitate transportation of measured quantities. The individual buckets overlap at the infeed and remain in an upward position until emptied to prevent spills.
Their modular design and rugged construction make them suitable for a wide variety of applications and industries including food, agriculture, pharmaceutical, cosmetic, chemical, ceramic, glass, recycling, building and metallurgical. The modular design also makes them simple to install and modify.

For more information on the Ryson Bucket Elevators you can read more stories in our blog, or visit the Ryson website at https://ryson.com/Bucket.htm. You can also download the bucket elevator brochure. If you have a specific application in mind, you can download our RFQ/Information form, or fill in your information online.