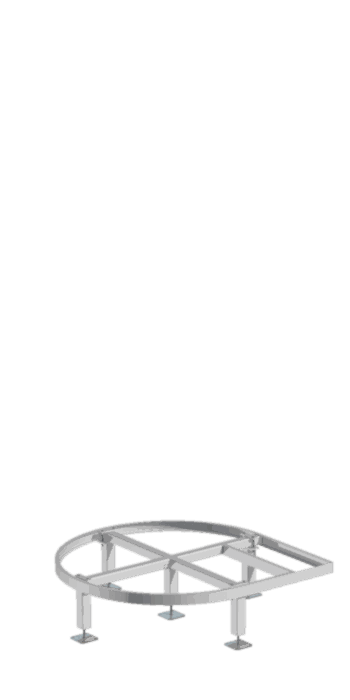 Ryson's unique modular design has many features for optimal vertical conveyance.  And can help lower your total cost of ownership.
Perfect fit
Because of our modular design, spirals can be built to order without a price increase. In fact, there is no "standard" spiral design. Each spiral is built to the exact specifications needed for an application. Infeed angle, angle of incline, speed and change in elevation are all factored into the equation before a spiral is manufactured.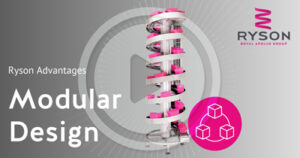 Many of these modular advantages are pointed out in this little Ryson featurette video. Check it out.
Reconfiguring
Another main benefit is that the Spirals can be modified at a later date with relative ease. This helps accommodate future layout changes, or repurposing.  This benefit is one of the factors that helps reduce your total cost of ownership.
This feature has saved many a day if upon install it is discovered that there was a miscalculation in the design process. A "fix" modification is both quick and economical – and can be performed on-site.
Additionally, we offer rebuild kits, that allow customers to replace components and refurbish a spiral without the expense of purchasing a new one. Many of our units have been running non-stop for over a decade. An affordable rebuild could be all that's needed to run another 10.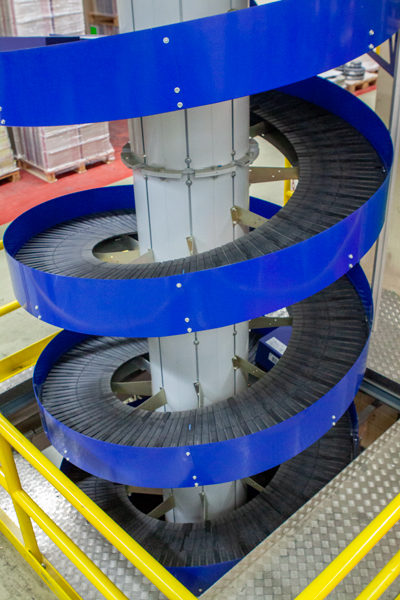 Vertical Conveyance is growing in importance as more and more companies are expanding upward, often with upgrading automation. Utilizing overhead space is much more affordable than a new building.
Shipping options
Most of our Spiral models are manufactured and shipped in one piece. This helps reduce installation time and costs. However our modular design also gives us the ability to build spirals in sections if the targeted installation area is limited. This is often happens because the spiral is slated to be installed around existing mezzanines or a penetration in the floor.
Find out more information on our Spiral Conveyors page, or read more about our modular design in our weekly blog.