The Ryson Narrow Trak Spiral is ideal for a high speed inline bottling operation. Due to it's modular design, it can be configured to the most challenging layouts. We also have the flexibility to build a spiral in sections to address tight egress installation challenges.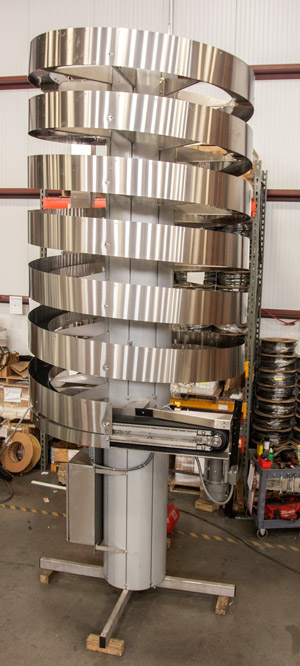 This week we shipped a spiral that is a perfect example example of tight egress installation . Due to plant and line access issues, the spiral has to travel down an aisle-way only 42" wide. This required us to design the spiral such that it could ship in (4) sections (note the flanges in the center tube). This Narrow Trak Model 1100-150 spiral is for our Integrator Partner, Sentry Equipment, to be installed at a west coast bottler, running sports drinks in PET bottles at 525 per minute.
The spiral has an elevation change from 15'-4" down to 6'-6" and will side transfer and decline the bottles at a speed of 180 FPM (this spiral has a top rated speed of 220 FPM). The spiral will be run in and tested with product at our manufacturing plant in Yorktown, Virginia, before it is dis-assembled and shipped to the west coast. Then one of our service technicians will assist the Sentry millwrights in the assembly and start-up.
The spiral is also pre-wired with NEMA 4x controls and is built as our new Hybrid stainless steel wash down construction. This option allows the end-user to perform a daily cleaning of the spiral. The nesting slats have the capacity to reliably end-transfer small cartons and packages or side-transfer small bottles or containers in a single file or in a continuous mass flow.  The spiral conveyors are equipped with our new 6" or 9" wide nesting slats which provide an efficient flat conveying surface without gaps.
For more information on our Narrow Trak Spirals, visit www.ryson.com, download the NT brochure or read more application stories on our weekly blog.