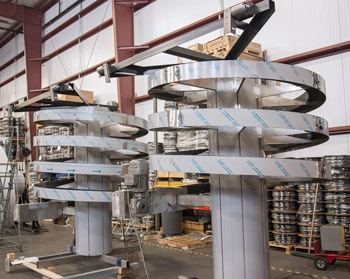 This week we shipped (3) spirals to a Canadian microbrewery for our Integrator partner, Pacific Packaging Systems. 
The project involved an incline and decline spiral handling full 12 and 18 ounce cans of beer at a rate of 250 per minute on our Narrow Trak spiral model 1700-150.  This combination allows the brewery to move raw materials and finished goods through the area by getting part of the production line off the floor and 8 feet in the air. The cans run single file at a speed of 100 FPM.
The photo shows the units ready for shipment. (still with the protective wrap on them for shipment). They are the Hybrid stainless steel option for operation in a wet environment.
The third spiral is a case handling spiral shipped in two sections because of some plant egress challenges.
Ryson Spirals are growing in the bottling market, and the Narrow Trak Spiral delivers some advantages that our larger spirals can't always offer. For more information on the Ryson Narrow Trak Spiral Conveyors, visit www.ryson.com, or read more application stories on our blog.