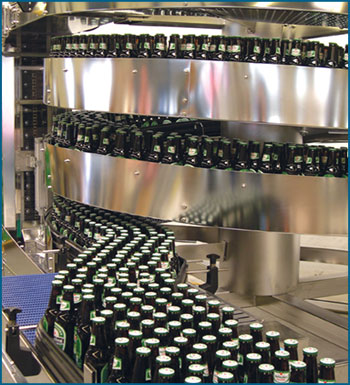 The Ryson Mass Flow Spiral Conveyors are gaining acceptance in the bottling industry. It's ability to handle cans, jars and bottles – full and empty, makes it a versatile machine perfect for the food and beverage industry.
The design is based on the already proven Ryson Spiral technology and feature extended in and outfeed conveyor to enable smooth side transfer to and from external conveyors. The standard slat width for the High Capacity Mass Flow Spirals are 12", 16" and 20" with capacities of up to 800, 1,200 2,000 units per minute respectively. The spirals are available in powder coated carbon steel, stainless steel and washdown versions.
Below is a video of a stainless steel high capacity mass flow spiral conveyor with 16″ wide slats. running a shop test with 12 oz empty glass bottles at a rate of 1,200 bottles per minute. This 11 1/2 turn spiral conveyor has an elevation change of 17′ – 0″ with a decline angle of 4.2 degrees. A spiral with this configuration could easily bring empty bottles from a de-palletizer to a high speed filler. If you would like more information about the Ryson Mass Flow Spiral Conveyor, you can download the product spotlight, or visit www.ryson.com.