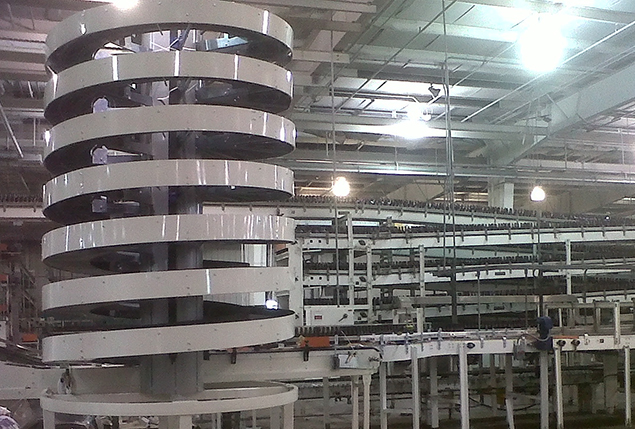 The Ryson Mass Flow Spiral Conveyor's small footprint is an efficient space saver. In the photo above you can see a Ryson Spiral Conveyor in front of an alpine conveyor system.  This is from a recent installation in a glass bottle manufacturing plant. The integrator SML Packaging decided to use a Ryson Mass Flow Spiral instead of a conventional alpine conveyor system in a new line.
The photo clearly illustrates the space saving. The Ryson Spiral conveyor has a much smaller footprint than the alpine conveyor allowing a much more efficient use of floorspace, making it a more economical solution. The spiral needs only one drive motor and only one transition at the infeed and one in the outfeed; compared to an alpine conveyor which requires a motor and transition area at every turn. Clearly the Ryson Mass Flow Spiral Conveyor is a more efficient machine that offers space savings, energy savings and reduces installation and integration cost, which, over time minimizes the cost of ownership.
The Ryson Mass Flow Spiral conveyor comes in 10″, 12", 16" or 20" wide slats with capacities of up to 2,000 units per minute. They are available in powder coated carbon steel, stainless steel and washdown versions. Visit www.ryson.com for more information on the Mass Flow Vertical Conveying Spiral.