A properly integrated spiral conveyor is one that will give years of reliable performance. To help insure that this happens we conduct conference calls shortly after our approval drawings have been submitted.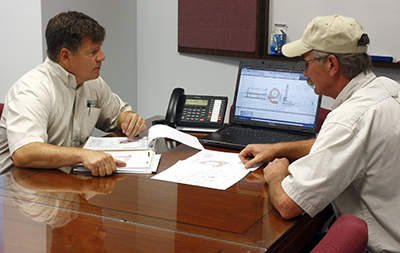 Here, Steve Dillaman (Vice President Sales) and Doug Glass (Service Manager) are on a conference call with an Integrator's Project Manager, Controls Engineer and Field Installation Manager. They are reviewing the Integrator's system layout drawing, along with the spiral approval drawings.  Doug is going over key electrical and mechanical integration points as well as discussing building egress requirements, installation procedures and the project schedule.
We know that helping our systems integrators understand how to properly install and integrate our vertical conveying equipment will ensure smooth startup and long life.  These project kick-off calls are key to that.
Read more about installation and integration here. If you have any questions, please give the Ryson Team a call.