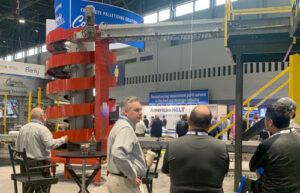 This year at Pack Expo, we had a rather unique integrator partnership opportunity. It was an arrangement between Ryson and two of our valued integrator partners.
Pacific Packaging Systems sold a system with a Columbia Machine Palletizer and three Ryson Spirals to a food plant in Indiana. They had also recently sold a similar system  their California plant.
Columbia Machine requested to display that palletizer at their booth at PackExpo in route to the final installation site. Columbia also asked if Pacific Packaging would be ok with diverting one of the spirals from the project to Pack Expo, allowing them to display it feeding the palletizer at the show. Pacific Packaging was fine with it. After the show, both the Palletizer and spiral were then shipped directly to the installation site.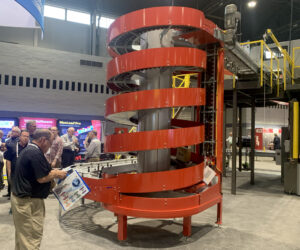 This arrangement was clearly a win/win. Columbia got to show a palletizing system at the show, we got to have one of our spirals at an additional booth, and Pacific Packaging got to show off a system they have sold.
Ryson values its relationship with Integration Partners. We make every effort to assist our partners in every stage of the process, from quoting, to engineering to installation and maintenance support. Our service team even assisted Columbia on the setup and dismantle of this machine at the show.
Our Case Spiral feeding a palletizer is a very common application. Find more information about our Case Spiral, or read current application stories about them in our weekly news blog.