Ryson strongly supports customer visits to our manufacturing plant. It gives us the opportunity to better know our customers and for them to better know us. At the same time, it affords us the opportunity to better familiarize our customers and integrator partners with our products, and best practices for installation and maintenance – to maximize the efficiency and longevity of our machines.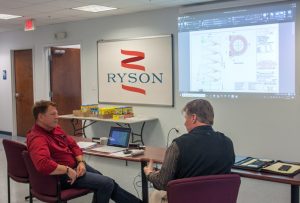 This week, we hosted Marty Frangenberg of RMH Systems. Marty came to our plant to inspect two spiral conveyors shipping to one of his clients in Iowa this week. He was able to witness their product running on a spiral.
We also maximized his visit by giving him technical training on our product line, including some time on the plant floor going over our Preventive Maintenance procedures with one of our PMMI Certified Trainer field technicians.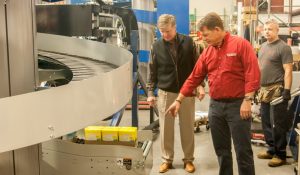 We welcome all Integrator Partners and Customer visits our plant. We strongly believe this is a valuable opportunity for our Integrator partners to travel to Virginia to get this training, we'll even defray the meals and lodging expenses.
We invite you to visit our plant – either as an FAT (factory acceptance test), or just product training, our doors are open. Find out more information on Ryson's installation and integration procedures, or download our installation guide.