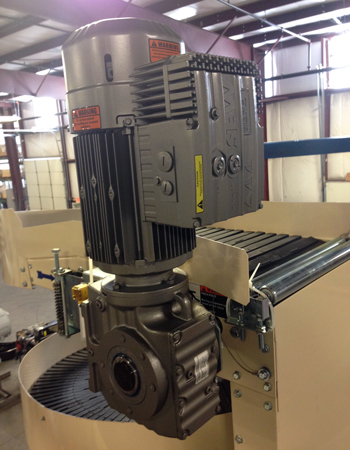 One of our integrator partners had a challenge when looking to expand an existing control system they were adding a Ryson spiral conveyor to. The control enclosure did not have enough room to add another VFD's (variable frequency drive), which is needed to properly control the spiral, so Ryson found a perfect solution for them, an SEW MOVIMOT.
For variable speed needs, the MOVIMOT is a frequency inverter mounted directly onto the motor, which eliminates the need for costly shielded cables from a typical VFD to the motor. Unlike many frequency inverters, MOVIMOT achieves it's sophisticated control through DIP switch settings and requires no electronic set-up at all. Using the dip switches, parameters such as acceleration and deceleration can be set.  SEW frequency inverters and motors are designed to work together – including integrated motor break controls, so no motor tuning is necessary.
These inverters are available in a 0.5 hp to 5 hp range. This also can also simplify and reduce the cost of integration and eliminate the need for a controls enclosure. For more information, visit www.ryson.com.