Recently, our controls and service groups were assisting our Integrator Partner, Conveyor & Drives, Inc. with a project. The end-user, a distribution center for computer peripheral equipment, was replacing a competitor's spiral conveyors, due to reliability issues they were having with them.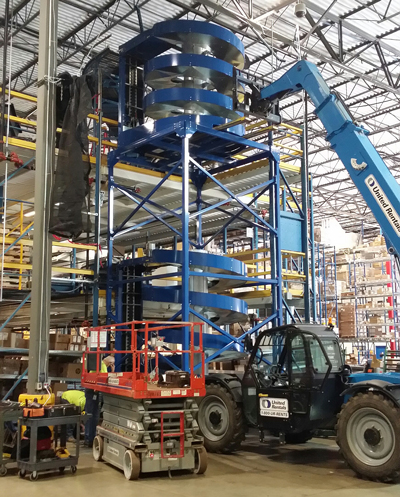 The reconfigured system consists of two of our model 1700-600's, double stacked. One spiral inclines from level one to level two, the other declines totes down to level three. Our AutoCad 3D drawings helped Conveyor & Drives confirm the space necessary to install our spiral extended leg support structure, supporting the upper spiral.
We were asked to replace the existing spirals over a short down-time window by our Integration Partner. They also asked us to include a pre-wired full controls option, which included chain tension monitoring system and a motor over torque shutdown, because the previous spirals did not have them.
Read more information on Ryson Spirals at distribution centers and our multi-tier conveying solutions on www.ryson.com.