This week we completed a factory acceptance test (FAT) for a High Capacity Mass Flow Spiral Conveyor going to MillerCoors.
This spiral  lowerator will convey empty bottles from a high level bulk de-palletizer down to the filler at a rate of 1,600 bottles per minute. The Spiral is equipped with our new 20" wide slat and easily handles the 9 foot elevation change. This unit also features many optional pre-wiring options which will reduce the cost and time of installation. The Systems integrator on this project is Can Lines Engineering, Inc.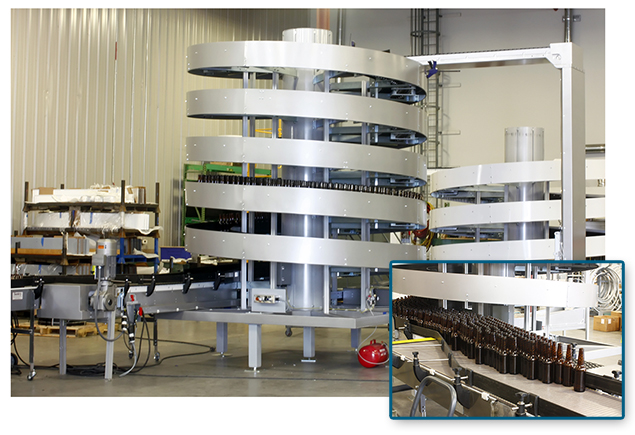 The Mass Flow Spirals are based on the already proven and reliable Ryson spiral conveying technology and are equipped with extended in and outfeed tangents to facilitate smooth side transfer to and from ancillary  conveyors. They can be delivered with 10", 12", 16" or 20" wide slats with capacities of up to 2,000 units per minute. They are available in powder coated carbon steel, stainless steel and washdown versions. For more information, visit www.ryson.com or download our Mass Flow Spiral Conveyor Brochure.