Customer Product Testing at Ryson plant confirms the  functionality of the equipment prior to shipping.
Another way that Ryson offers customer service is to welcome product testing. We have a testing area in our manufacturing plant, where many models are available to test product handling. Customers are encouraged to visit us, or we can video tape the tests. It ultimately gives our customers confidence that our machinery will handle whatever they need conveying in a way that is satisfactory to them.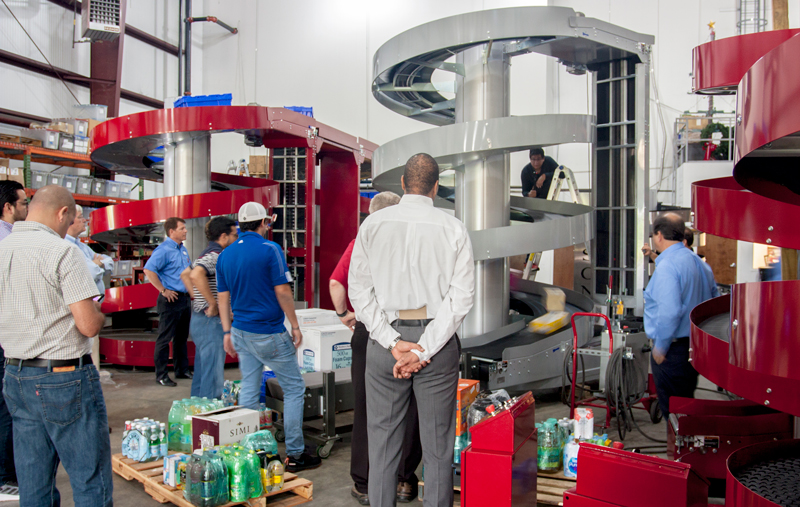 That is precisely what we did last week when we hosted 7 visitors from Mexico from both OXXO as well as their  integrator partner – Fortna – to see for themselves the Ryson manufacturing facility and test every single one of their product combinations on the Ryson spirals.
OXXO is practically a household name in Mexico and their convenience stores are located, it seems on every corner.  They currently have over 17,000 stores and look to expand their operations throughout Latin America to double that quantity.  The key to the success is to have efficient regional warehouses to make sure that the flow of products is accurate and timely.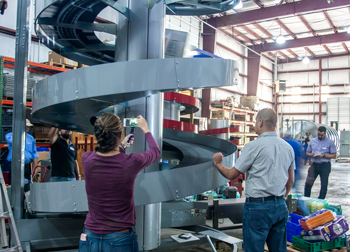 The product mix in these stores varies from large, easy-to-convey boxes to small difficult to convey shrink-wrapped bundles.  Some products are in totes while others are small and present challenges especially at the transitions.   The spiral to be tested – 1700-600 – was similar to ones already at OXXO facilities in both standard capacity as well as high capacity models to allow for multi-level induction.
After a full day of testing, inspections, and re-testing, the group walked away completely satisfied and confident that the Ryson spirals will contribute to the efficiency and overall success of their warehouse operations.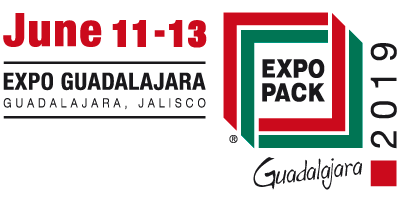 Ryson will be in booth 1920 at ExpoPack in  Guadalajara June 11-13. It is a wonderful opportunity to reach out to our customer base and integration partners in Latin America.
If you are interested in product testing on one of our spiral conveyors, you are welcome to fill out the request more information form at the bottom of our website, or read more testing stories on our weekly news blog.