High Capacity Spirals Installed in Australia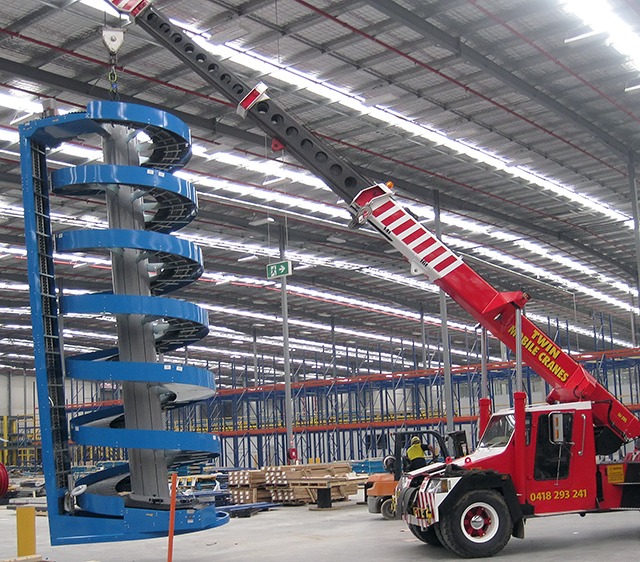 Four high capacity spiral conveyors are currently being installed in a large distribution warehouse for electronic products in Austrailia. These spiral elevators will service several order picking levels. The Tallest spiral feeds in product at 2′ – 6″ and discharges at 29′ – 0″. The Ryson High Capacity Spiral Conveyors easily handle the tall height requirements with only one drive. The 24″ wide slats will be able to handle loads with variable sizes and weights. There is also an intermediate high-speed induction conveyor at the 12′ – 6″ elevation to accommodate an additional order picking level with the same spiral conveyor unit. The induction conveyor adds additional operational flexibility and reduces the number of vertical conveyors required.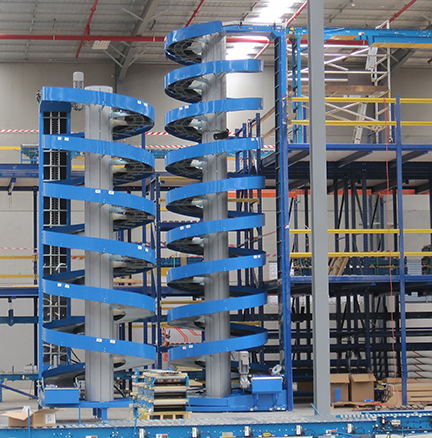 The Ryson Spirals are very easy to install and most spirals are shipped in one piece, pre-tested which drastically reduces the time and cost of installation.  These spirals were loaded fully assembled into 40′ containers and shipped as ocean freight to Australia. A member of our service team traveled down under to supervise the installation and provide maintenance training to ensure the longevity of the vertical conveyors. The integrator on this project is Bastian Material Handling.