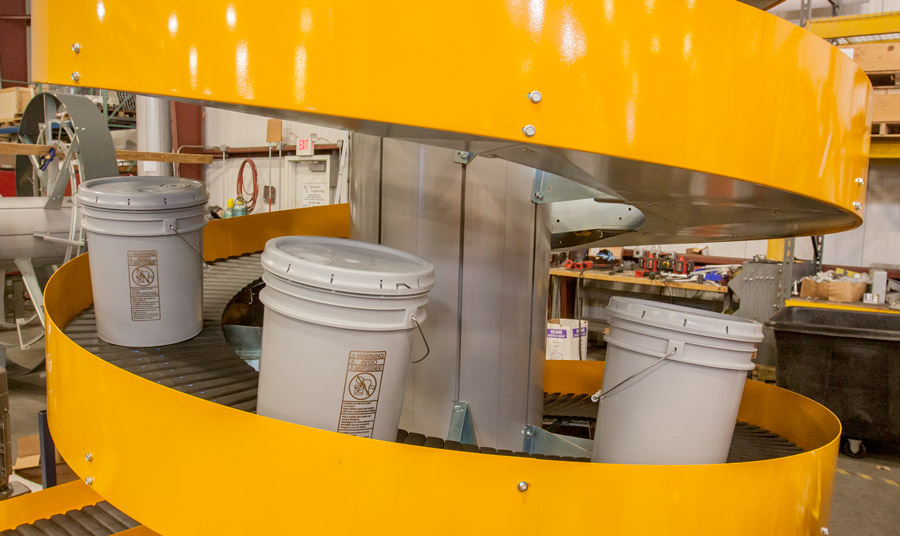 Ryson High Capacity Spiral Conveyors are heavy duty enough to handle heavy products like 5-gallon paint buckets. The total weight capacity in the spiral at any one time is 3600 lbs. Only one drive motor is required, resulting in substantial savings in energy, controls and system integration.
Pinturas Berel is practically a household name in Mexico.  They produce high grade paint products and coatings to the commercial and private markets.  Their paint stores are located throughout Mexico.  Berel produces a broad spectrum of paint products including latex, oil base, impermeable and base coatings, etc.
Their production facility in Monterrey Mexico currently uses two High-Capacity Ryson spirals to convey 5-gallon buckets vertically then back down into the warehouse.   Due to the unique modular design of the Ryson Spiral, one of them was re-configured onsite to accommodate changes in the original application allowing for a longer useful life and avoid replacement.
They have recently ordered two more spirals each reaching almost 16 feet.   These heavy 5-gallon buckets are challenging due to issues of overall weight and angle of inclination.  The Ryson High-Capacity spiral uses a 1" heavy-duty chain and robust 16" slat to hold up to the demands required of it. Also, with all the Ryson spirals they utilize the automatic chain tensioner, modular design, and overtorque protection system to ensure reliability and long life.
For more information about the Ryson High Capacity Spiral Conveyors, visit the High Capacity page on our website, download the product brochure, or read more application stories on our weekly news blog.