Since their induction close to two years ago, the Ryson High Capacity Spiral Conveyor has taken off.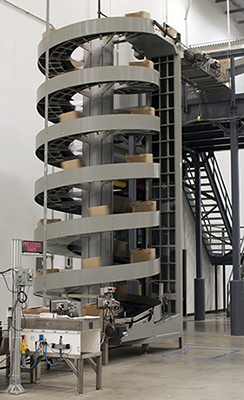 Once the benefits of our heavy hitter were realized, their demand has increased dramatically. These Spirals came about primarily because our customers needed to move heavier loads and go higher.  The 1 inch chain that moves the slats is  heavy duty, allowing for a capacity of 75 lbs. per linear foot of conveyor for speeds up to 200 FPM. The total weight capacity in the spiral at any one time is 3600 lbs.
Only one drive motor is required, resulting in substantial savings in energy, controls and system integration. Ryson Spirals are designed for low maintenance and long life. An innovative modular design allows Ryson to customize with ease and modify in the field to accommodate emerging needs. Download the Ryson High Capacity Spirals Spec Sheet here. You can also read more application stories about the Ryson High Capacity Spirals on our weekly blog.
Below is a video of a Ryson High Capacity Spiral Conveyor at a Wine & Spirits Distribution Center.