As word spreads about Ryson's recently-enhanced high capacity mass flow spiral conveyors, our manufacturing plant hits high gear building them. The high capacity mass flow spirals are available with 16" and 20" wide slat surfaces. They can double the load capacity of our standard mass flow spirals that feature a 12″ conveying surface . These new machines give our systems integrators and their clients the ability to convey cans, bottles and jars at rates up to 2,000 per minute with up to 16′ elevation change.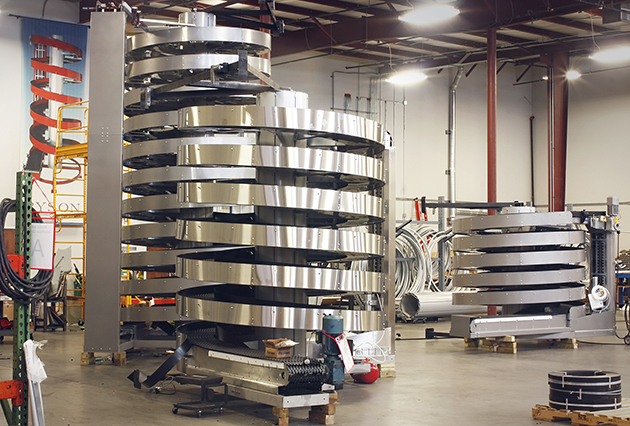 In the photo above,  three new model 1900-400 mass flow spirals are all nearing completion and headed to different parts of the country.
A spiral being used as a dynamic bi-directional buffer accumulation system for a medical filter device manufacturer in Illinois.
A Hybrid washdown spiral handling empty aluminum cans and glass beer bottles from a depalletizer for a major Brewery in Colorado.
A huge 12-turn spiral inclining full beer bottles and cans for a micro brewery in Minnesota.
For more information on our High Capacity Mass Flow Spiral Conveyor, visit www.ryson.com. Visit our YouTube Channel to view videos of our mass flow spirals in operation.