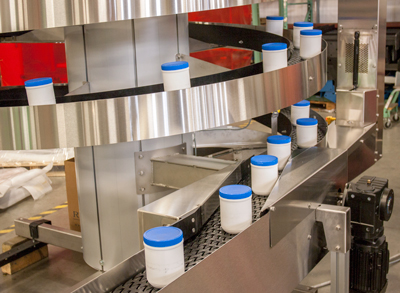 This week we are packing up all the equipment we will be shipping to Pack Expo in Chicago. We will have 5 pieces of equipment running in our booth. This includes 2 new versions of our Narrow Trak Spiral Conveyors.
These Spirals are super compact vertical conveyors designed to handle small loads. Our nesting slats have the capacity to reliably end-transfer small cartons and packages or side-transfer small bottles or containers in a single file or in a continuous mass flow.  The spiral conveyors are equipped with our new 6" and 9" wide nesting slats which provide an efficient flat conveying surface without gaps. These spirals can run at speeds in excess of 200 fpm.
The Spiral with the 6″ wide conveying surface will be set up for side transfer to handle bottles and cans in a single file. This model will be a good alternative to side gripper conveyors because they can run at high speed and do not need to be adjusted for varying product sizes.
The Spiral with the 9″ wide slats is set up for end transfer of products and will run a variety of product sizes.
If you have a product you would like to test on our spirals, Ryson would be happy to test it during the show, or alternately we can test products in our shop and you are free to see it in person, or we can video tape it and send you a convenient link to view it. This is a courtesy we extend to all of our customers and prospects. Download the latest speck sheet for the Ryson Narrow Trak Spiral Conveyor.
Pack Expo will be held in Chicago, November 6-9. Visit the Ryson booth N-5528. Please click here for more information.