Garvey Spiral Infinity – Ryson's collaborative project with Garvey Corp. adds vertical accumulation to their already proven Infinity System.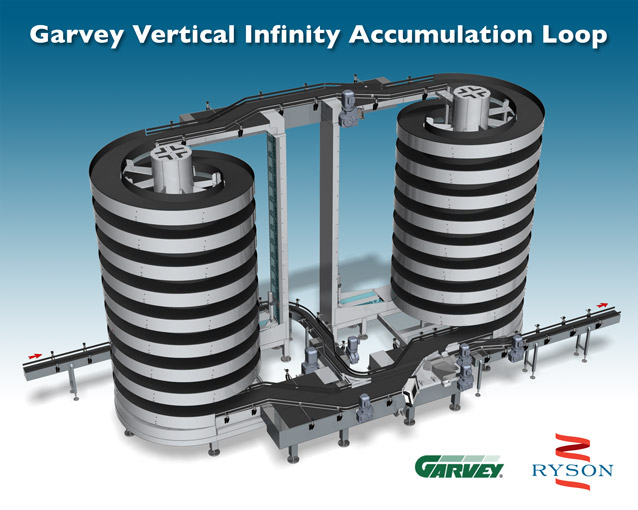 It received  a lot of attention earlier this month at Pack Expo in Las Vegas, and seemed to especially catch the eyes of craft brewing companies. In fact, it topped the list in Craft Brewing Business' article entitled "Five beer production, packaging products you didn't know you should know about". The article reported about great innovations found at this year's Pack Expo.
In the fast line of bottling, there is a need for accumulation if something downstream stops. (like between the filler and labeler, if labels need to be restocked for example.) The Garvey Infinity Loop allows 60 ft2 of accumulation, but some operations require more. That's when "Garvey teamed up with Ryson, makers of spiral conveyors, to develop a simple and elegant solution: the Spiral Infinity. The Spiral Infinity can be extended to provide up to 290 ft2 of accumulation space with only a slightly larger footprint than the standard Infinity loop table."
If you would like more information about the Garvey Spiral Infinity, you can download some additional information or visit www.garvey.com. You can also read the full article from Craft Brewing Business.