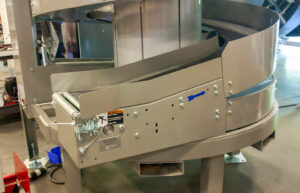 This application adds fork pockets to our spiral base frame and allows the spiral to be moved from station to station depending on the production schedule. A pretty savvy cost saving concept.
A large packaged food product manufacturer approached us recently to build a spiral that was "portable".  They wanted to easily transport it to various locations in their plant. This kind of flexibility is a seldom used application for our spirals, but certainly doable.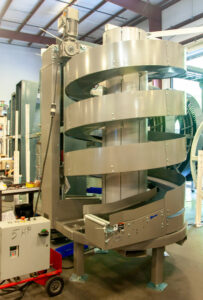 The spiral is our model 1200-300 and we added a cantilevered control panel support, so that the self-contained control system moves with the spiral. The spiral is 9'-6" tall.
Most spirals are shipped in the horizontal position, then erected at the installation site then anchored to the floor. They are also often considered an "anchor point". So the rest of the conveying line is built after the spirals are in place. This is an application similar to what we've done on our various trade show spirals – A base with fork pockets built in, so it could be transported in it's vertical orientation, and placed where needed.
You can read more information about the Ryson Case Spirals or read current application stories in our weekly blog. We also have many application videos on our very own YouTube Channel.