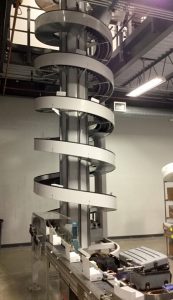 Last week one of our Ryson Service Techs was called in to do maintenance training for a spiral that was delivered  in 2000. The spiral has been in service at a medical test and development facility running a 24/7 operation and has never needed a service call from us. Over that time span, the customer only ordered additional friction inserts from our parts department, the most common wear-and tear replacement part.
The service technician was impressed with how well the spiral had held up over the years. Ryson spirals are reliable and designed for a long life. We always advocate that proper integration and preventative maintenance will greatly extend the life of the spirals ,which is quite evident in this case. It is always nice and rewarding to hear stories from the field like this, because it is a testament to the quality and longevity of our product.
If you would like more information on the suggested integration and maintenance, visit our website or download our literature. You can also read more stories about Ryson Service on our Blog.