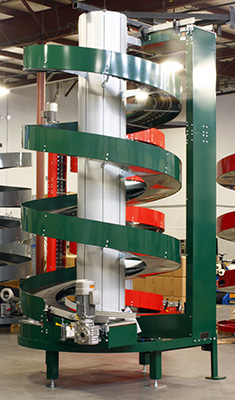 Ryson Spiral Conveyors Fast Track Manufacturing: The Ryson Spiral Conveyor's modular design combined with a very efficient manufacturing process allows Ryson to offer short deliveries.
All our spiral lifts are made to order in our manufacturing facility in Yorktown, Virginia and the standard delivery is eight weeks from receipt of order. Certain conditions allow a fast track expediting also.
Ryson understands that shorter deliveries are required from time to time. This was the case with a recent order which was received June 3rd and the spiral was shipped June 24th. The end user was Clorox in Puerto Rico and the integrator was Inrumec. Another example of Ryson's commitment to excellent customer service.
If you have a need for a spiral, please feel free to fill in our RFQ form and we will get back to you with our vertical conveying suggestions for model and a pricing by the next business day.