Factory Acceptance Tests Welcome at Ryson International
We always welcome our Integrators partners and their clients to visit Ryson… And run factory acceptance tests on their new spiral conveyors prior to shipment.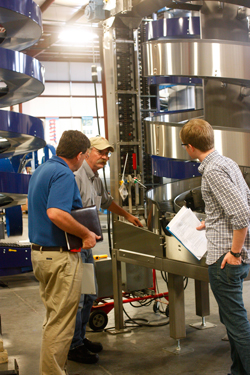 It's an opportunity to demonstrate the unit in operation, review preventive maintenance procedures and key integration details with them. It is also a chance to get their feedback on how our vertical conveyors will be applied at their facility.
We recently had the pleasure of hosting the Process Engineer for a large consumer products manufacturer, along with Wayne Snyder, a Sales Engineer with NCC Automated Systems, our Integrator Partner.
The Engineer wrote back after the visit and commented:  "Thank you for your help on the FAT yesterday, I was really impressed by the manufacturing facility as well as all of the information that you all passed on operation and maintenance of the conveyor, not all of our equipment suppliers are so helpful and I really appreciate it."
Customer service is a top priority at Ryson… Second only to manufacturing the top of the line spiral conveying systems available. Click here for more information on Spiral installation and integration or download the Integration and Maintenance Guide.