This week Ryson hosted an engineer from a global beverage manufacturer, who came to inspect and test four 1900-300 mass flow spiral conveyors. The spirals will transport filled PET bottles at rates of 400-800 per minute. Two of the four spirals were manufactured in stainless steel for wash-down areas and the other two had Ryson's standard powder coat finish.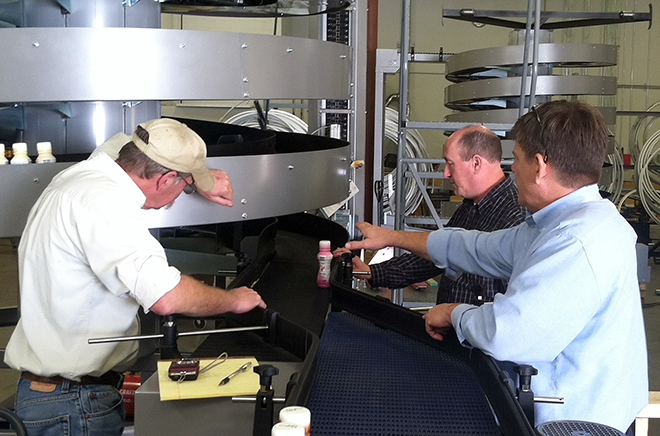 After a thorough review of the spiral conveyor specifications, we proceeded to the shop floor where the spirals were tested, running their products. Followed by a complete run-through of the preventive maintenance reccomended on Ryson's vertical conveyors.
We began to prepare them to ship as soon as our guest left as our technicians will be on-site this weekend to assist in the installation of the first spiral. The spiral conveyors are being implemented into a system designed by Sidel, a Ryson Systems Integrator.
We welcome these Factory Acceptance Tests (FAT) and enjoy meeting the companies who are creating an ever-growing demand for the best spiral conveyors in the world.