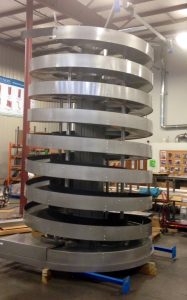 Recently we hosted a Factory Acceptance Test (FAT) on a Ryson High Capacity Mass Flow Spiral Conveyor. The Spiral ships to a major food manufacturer in the Mid-West. Ryson welcomes FAT's because it allows our customers to familiarize themselves with our equipment prior to installation, with the added benefit of expert training from our factory technicians.
This unit will handle various sizes of full mayonnaise jars at a rate of 350 jars per minute. This spiral will provide an elevation change of 11′ – 0″ with 7 1/2 clockwise turns.The conveying surface is 16″ wide and can handle all their product sizes without making any adjustments and eliminates the need for any change parts.
For more information on the Ryson Mass Flow Spirals, visit www.ryson.com. You can also read more stories about The Ryson Factory Acceptance Test on our weekly blog.