EXPO PACK in Guadalajara, Mexico, the leading trade show for the packaging and processing industries in Mexico and Latin America was a huge success for Ryson. Especially after our big rebranding.
This year's EXPO PACK (June 13-15, 2023) brought together nearly 16,000 packaging and processing buyers with 700 exhibitors over 15,000 square meters of exhibition space. Returning after four years as the largest exhibition in its history, EXPO PACK Guadalajara showcased the latest innovations, technologies and solutions in the packaging and processing sectors.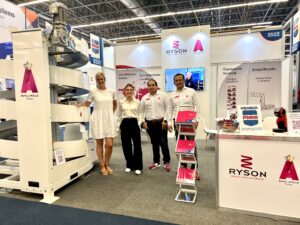 Ryson showed a cobranded booth together with our parent company's branch for Latin America: Apollo VTS Mexico. The first day of the show also happened to be the day of our big brand change which made this show even more special and exciting for us. 
We're very happy to have made so many meaningful connections at the show and to hear so much positive feedback on our new corporate identity.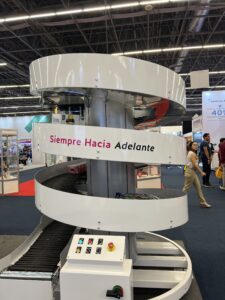 The spiral we showed at the Mexican show was a 1300 – 400 Case Spiral (or Unit Load), made for all different kinds of transportation needs. Find more information on our different spiral models here.
After the opening of the New Mexican office for the Royal APOLLO Group, Ryson's role for the Latin American market has shifted a bit. With a local team for sales and service in Mexico, we are now mainly responsible for the production of the machines, supporting the team in Latin America. For more information about Apollo Mexico, please visit Apollo's landing page. 
In summary, this trade show was an absolute success. To be able to dive deeper into a growing and fascinating Latin American market was a very nice experience and we hope to continue to thrive and grow as a company in these countries. As the Apollo slogan says "Always Moving Forward" or "Siempre Hacia Adelante".