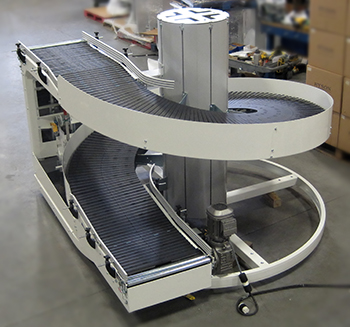 Custom Elevation Change: When most people think of spiral conveyors, they think of vertical elevation changes of 10 to 12 feet. But spiral conveyors are also effective for a small custom elevation change that cannot be achieved by an incline belt conveyor in the allotted space.
Such was the case for our Integrator,  Pack Air Inc., who is shipping this spiral to be used in a system they are building for a large consumer products company. This Ryson Spiral Conveyor has only one turn with an elevation change of  4 feet. The Ryson proprietary modular design allows our Spiral conveyors to be custom built to your specifications, including speed, direction, in-feed and out-feed elevations and orientation, number of turns and or angle of incline.
If you are wondering if a spiral conveyor will work for your vertical conveying application,  fill out our RFQ form online and we will get back to you with our recommendation within 24 hours.