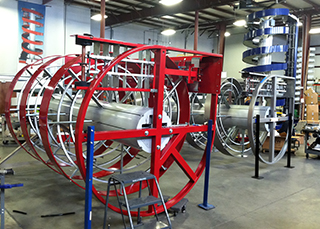 Every Ryson spiral is made to order to fit your specific application. Variables such as change in elevation, load size and stability, conveying speed, in and out feed angles, throughput volume, weight and orientation requirements are all considered when our proposal team comes up with spiral solutions and pricing. 
Ryson has six standard slat widths ranging from 8″ to 26″. The spiral footprint depends on the width of the slat. Slat widths take your product size and or volume requirements into consideration. The angle of incline or decline depends on two major variables – the change in elevation required and the unit stability. Naturally a stable product with a low center of gravity can traverse at a greater angle.
The modular design of the Ryson Spiral Conveyors enables any in-feed and out-feed tangent, allowing you to fit a vertical lift spiral into your line with the smallest possible footprint. Any Ryson Vertical Spiral can be designed to go up or down and can optionally be made reversible. We also work closely with our integrators and offer other options, including special safety considerations, controls, pre-wiring and other options to facilitate integration. All Ryson Spirals are available in powder coated carbon steel (any RAL color), stainless steel, washdown and freezer versions.
Please check out our RFQ form for more information about our spiral conveyors. If you fill in the application specifics, our Ryson proposal team will quickly reply with a spiral recommendation and pricing. You can read more about The Ryson Spiral Conveyors on www.ryson.com.