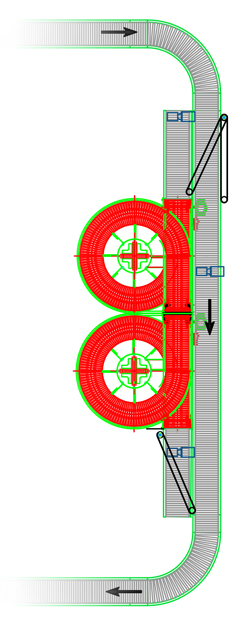 Two Ryson Spiral Conveyors can be used together to provide a dynamic vertical buffer. 
A perfect example is this current project: Next week we'll be shipping this combination of an up and down spiral that will serve as a dynamic vertical accumulation buffer. Our Integrator partner, Conveyor & Caster EFI, needed to create a method of dynamically storing over-wrapped absorbent products in the case of a downstream interruption in line flow.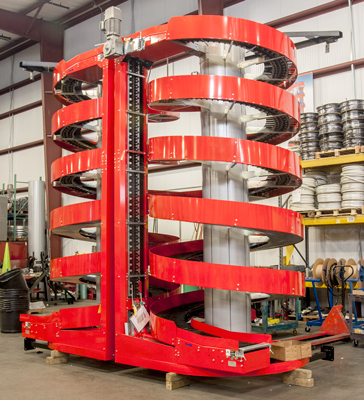 The two Ryson model 1500-400 spirals (15' tall) contain over 150 feet of conveyor length creating room for about (130) packs or about seven minutes of buffer. When the case packing operation stops, packs are diverted into the up spiral, while shifting to a lower speed, thereby creating smaller gaps between the loads. When the line flow resumes, packs are metered into the line from the spirals and the buffer is emptied.
Stay tuned for the case history of an upcoming project where we are doing the same type of off-line buffering on a very tall reversible spiral in front of a robotic palletizer. If you would like more information on how Ryson Spirals can create a dynamic vertical buffer, visit www.ryson.com or read examples of past projects on our weekly blog.