Dual Track – Two Spirals in a Single Footprint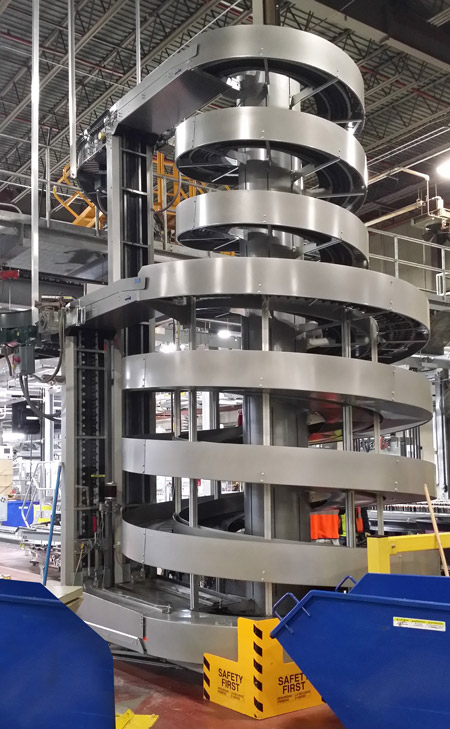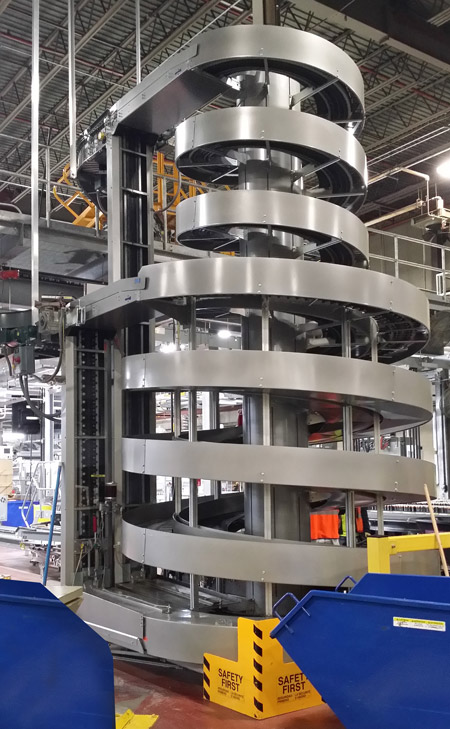 The Ryson Dual Track Spiral Conveyors are the ultimate in space savings. They essentially allow you to have two spirals in a single footprint, and have the capability to discharge/enter at different elevations.
Here's a perfect example from a recent installation at a major beverage manufacturer.
Their goal was saving floor space by utilizing a two lane system that takes corrugated trays to two different levels and locations within the plant.
The 16" wide lanes are independently driven at speeds of 150 FPM, with the inside lane going to 17 feet elevation and the outer lane discharging at 10 feet. Only one drive motor is required for each track, resulting in substantial savings in energy, controls and systems integration. The Dual Track Spiral Conveyors build on the already proven Ryson Spiral Technology and are designed for low maintenance and long life.
The spiral shipped partly dis-assembled and one our technicians was on-site to supervise the re-assembly and train the staff on proper set-up and maintenance – to ensure the long reliable life of the spiral.
Read more information about the Ryson Dual Track Spiral Conveyors, download the spec sheet, or read more Dual Track application stories in our weekly news blog.