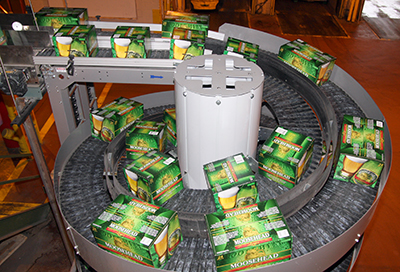 The Dual Track Spiral Conveyor from Ryson is the most efficient way to convey vertically in a very small footprint. It can be used to vertically double the volume or to elevate two product lines within a single unit.
The Dual Track Spiral conveyor pictured to the right is part of an installation at a brewery. If you look closely at the two tracks you'll notice they are running different package lines. This allows cartons to run up beside cases for example. This has the potential to simplify and reduce product flow in the palletizing area.
In addition to slat width flexibility of two parallel tracks, the lanes of the dual spiral can operate independently and can convey up or down, and can optionally be reversible.
Below is a video of a Ryson Dual Track Spiral Conveyor that is featured on our YouTube Channel. If you would like additional information on our proprietary dual track spiral, you can download the spec sheet here.