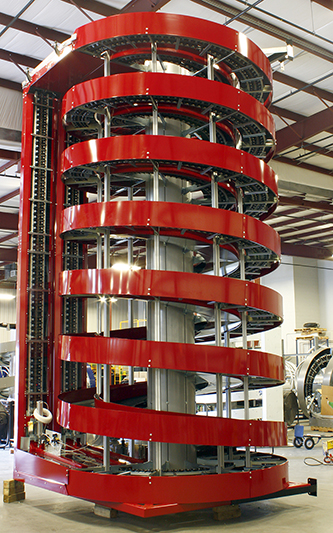 This week Ryson shipped a tall dual track spiral conveyor. This substantial 6 1/2 turn down-spiral will convey shrink-wrapped six-pack and two-pack gallon jugs from an in-feed height of 19′ – 1″ to an out-feed height of 2′ – 10″ at floor level. Both the inner and outer tracks feature a 16″ wide slat.
The integrator on this project is Pacific Packaging Systems, for a large dairy plant in Utah. The space to decline the two high volume packaging lines was so limited, the dual spiral was the only viable option.
Two spiral conveyor tracks operate independently within one vertical conveying structure, making the Ryson Dual Track Spiral Conveyor the ultimate space saver.
For more information on the Ryson Dual Track Spiral Conveyor, you can visit www.ryson.com or download a Dual product spec sheet.