Dual Track Spiral: 1 Unit for 2 Levels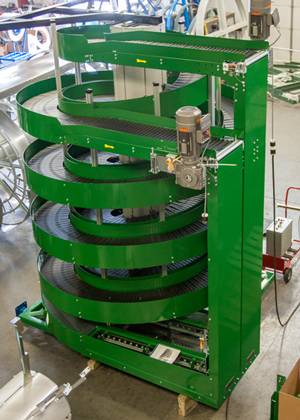 Ryson recently built a Dual Track Spiral consisting of two 16" lanes with different discharge elevations.  
Our integrator partner PeakLogix, designed it to handle totes in a multi-level order picking operation at a distributor of hospital supplies in Virginia.. Totes are transported through the first picking level and if the order is complete, it goes to the inside lane and is conveyed directly to a 12′-6″ elevation and is conveyed to the shipping area. If additional picks are required on the second level, the tote goes to the outside lane which exits at 10'-0".
The advantage of the dual track spiral in this application is the space savings of servicing two elevations within a 9'-0" diameter footprint.
Our technician was dispatched to assist the PeakLogix millwrights in the re-assembly of the spiral, which was installed over a 3-day weekend.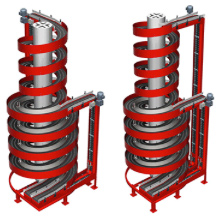 This was the second 1300-400/2300-400 we have shipped this year that had multiple discharge elevations, both in distribution applications. For more information on the Ryson Dual Track Spiral Conveyor, please visit www.ryson.com, or download the Dual Track Product Spotlight.