Ryson Dual Spiral Conveyor:  The Ultimate in Space Savings.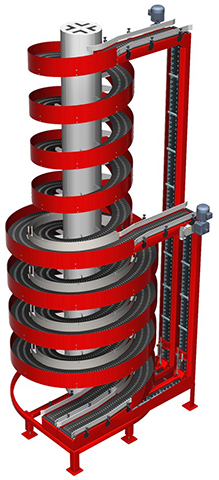 Ryson's innovative modular design allows us to customize and modify the spirals to accommodate your emerging needs. All spirals are made to order, accommodating most requirements relating to the location of the in and out feed tangents.
The two tracks do not have to feed in and out of the spiral at the same elevations, and can be applied very effectively to multi-level order picking modules or similar applications. The outside track serves the first level and the inner track the second level.
Models with dual 8″, 12″, 16″ and 20″ wide slats are currently available.
All configurations of the Ryson Dual Spiral can operate up or down in a clockwise or counterclockwise rotation and custom configurations are available. Read More about Ryson Dual Spirals , or Download the Dual Track Spotlight.