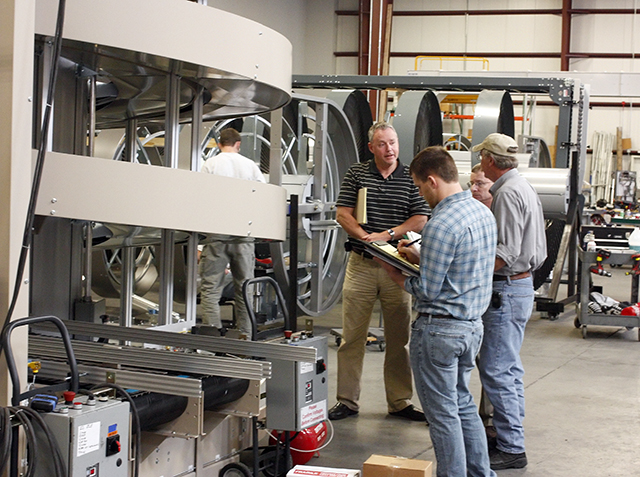 This week we hosted a Dual lane spiral factory acceptance test (FAT) for The Jelly Belly Candy Company of Fairfield, California. 
Our Systems Integrator, Sierra Conveyor Co., Inc, designed an upgrade to the Jelly Belly case conveyor system that delivers product to their robotic case palletizers.  The new system uses a high speed lane divider prior to the spiral conveyor to automatically meter cases to one of the dual spiral's lanes. This will help to balance the product flow to the three palletizers, speeding up their packaging lines.
The new spiral conveyor will also save floor space by replacing conventional incline conveyors. When the incline belts were worn, cases would often slide backwards. With the experienced Ryson engineering team, the spiral's incline angle and built-in friction surface was designed to ensure the correct orientation and smooth transportation of the Jelly Belly cases through their 10 foot elevation change.
The spiral will also be prominent on the Jelly Belly factory tour, so your can see it run if you decide to visit. Stay tuned on more details and video on this project once the line is installed.